Eric Johnson Blues Cube Tone Capsule
"I've spent years finding amplifiers to suit my tonal quest and discerning criteria to get my sound. I'm excited to work with Roland to create many aspects and persona of that sound in a more compact, tangible, and affordable version for all kinds of players." — Eric Johnson.
GRAMMY Award-winning guitarist Eric Johnson and the makers of Blues Cube amplifiers have co-produced the new Eric Johnson Blues Cube Tone Capsule. Eric's expert audio design delivers texture, voicing, and a rich tone giving Blues Cube an amazing likeness of Eric's remarkable sound. Eric's personal touch can be heard in many nuances of the amp when the EJ Tone Capsule is engaged. The Eric Johnson Tone Capsule takes the vintage classic Blues Cube amp to both new and vintage levels.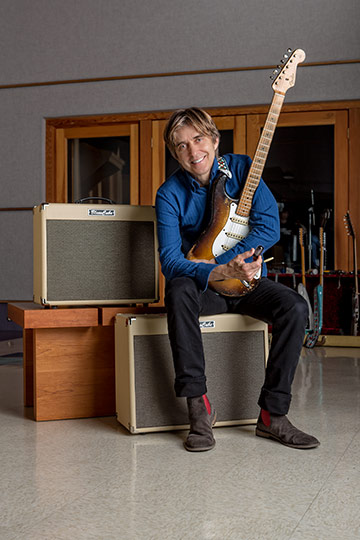 First Impressions
It is no secret that Eric Johnson's guitar playing and tone are iconic. Also well-known is Eric's ear for meticulous perfection. Desiring that same high level of vintage tone, the Blues Cube team made the decision to discuss the amp with Eric. "I am very interested in pursuing new paths to getting tone," Eric explains, "and when the Blues Cube team asked if they could present an amp with new tone capabilities, I was intrigued." The Blues Cube engineering team visited Eric Johnson at his studio in Austin, Texas, and the EJ Tone Capsule journey began. Eric fired up one of his vintage combo amps for comparison. He played for a while and noted the similarities in texture and also the volume (the Blues Cube Artist touts 80 adjustable watts of power). Eric asked if the amp could be modified for his specific tones. "Yes," one of the engineers answered, "we can adjust the amp to your specifications." The first meeting ended on a very positive note and Eric welcomed the Blues Cube team back to Austin at a later time.
The Amp
So what is the Blues Cube amp that Eric heard that day? The reinvented Blues Cube series launches the classic 1x12 combo amp into a new era, combining genuine tube sound and response with modern reliability and easy portability. Going far beyond modeling, Roland's Tube Logic design philosophy starts with carefully reproducing the inner workings of the revered tweed-era tube amp in every way, from guitar input to speaker output. Versatile clean and crunch channels can be used independently or combined for a complex range of tones, while variable output power modes let you dial in burning, full-throttle sound at any volume. Road-tested and fine-tuned with feedback from top players, the gig-ready Blues Cube delivers the sweet, magical tone and satisfying feel that makes a great guitar amp a highly expressive musical instrument.
Technician Meets Engineer
A few weeks later the Blues Cube team returned to Austin with a couple more amps for Eric to check out. This time Eric invited Bill Webb, guitar and amplifier technician, to join the group. Bill maintains and modifies Eric's amps to ensure that Eric's tone is always ready for stage and studio performance. Bill is a master technician with decades of invaluable experience. "Eric has a very unique tone, explains Webb, "and it's my job to ensure that his gear is performing to his exact specifications." The team connected the Blues Cube amp to one of Eric's Stratocasters. From the first note that Eric played Bill seemed a bit shocked. He was impressed that it responded like a vintage tube driven amp. He was also blown away by the lightweight design. Bill asked if he could make some changes to more resemble Eric's specific tone. While Eric played, Bill and the Blues Cube engineers began to make adjustments. Each modification brought a more curious look on Webb's face. "It's really working; I can hear that the tone is beginning to sound like Eric's." Eric also commented that the play feel was moving in the right direction. There was real excitement in the room and everyone there could feel it. After making significant changes to the circuit characteristics, the team sat and talked it through. Eric explained that his tone is very specific and that having both the factory Blues Cube tone and his custom settings available separately is an interesting idea. "Many guitarists may prefer the factory Blues Cube sound over mine," Eric explained, "the factory tone will appeal to many kinds of players." Eric and Bill both agreed that they wanted to continue working on the project.
EJ Tone Capsule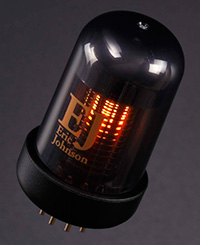 The plan was set. Blues Cube amplifiers would ship with a sweet vintage tone right out of the box. Eric's custom Blues Cube tone, however, would be made available in a new and exciting product: the Eric Johnson Tone Capsule. The Tone Capsule is a modification circuit unit that changes the tube circuit characteristic of the original Blues Cube and attaches under the amp chassis. Once connected, the circuit modification on the Tone Capsule changes the tuning of the amp giving you custom tones and responses. The Tube Logic design physically amplifies the analog discrete circuit with characteristics produced by DSP circuits. Blues Cube's basic sound quality is built upon the physical preamp and power amp. The analog discrete circuit and DSP circuit working together produce a very advanced path to tone.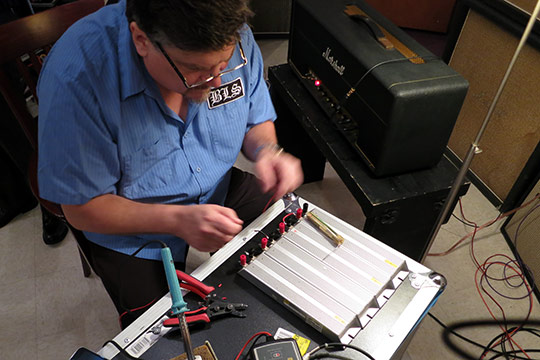 The Blues Cube team regrouped back at their R&D headquarters. Weeks of further tone testing ensued in preparation for the final stage of audio design. The Blues Cube engineers understood that the final phase would be critical; Eric's tone expectations are very high and there is no margin for error. Back in Austin, Bill Webb worked tirelessly preparing Eric's hand-picked late 1960s Plexi heads and Fender combos making them ready for audio testing and comparison. Each amp had to be checked and rechecked.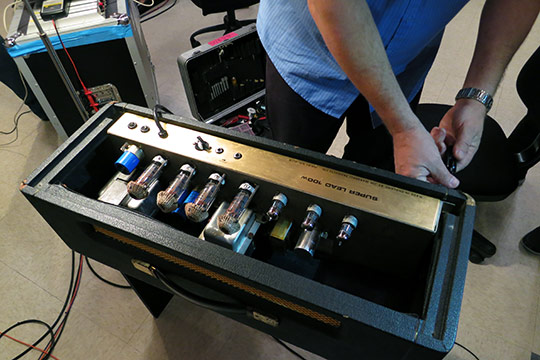 The Blues Cube team again travelled to Austin to complete the EJ Tone Capsule project. Carefully connecting an oscilloscope to Eric's amps gave the team a clear view of the waveforms detecting properties such as amplitude, frequency, rise time, time interval, distortion, and other factors. Eric commented, "We're checking out some of my old amps and trying to infuse that into the Blues Cube, and right out of the shoot it's working pretty well. It's surprising. I think the response is more tube-like than it is solid state." Bill and the Blues Cube engineers further discussed the guitar response. Bill wanted to know how Blues Cube was able to react like Eric's amps. The engineer explained, "The Blues Cube creates real power sag in each circuit and component by dropping voltage of the power supply and intermodulation of power supply frequency, condition of the screen grid voltage and pre tube voltage." This was a deep exchange of knowledge concerning Blues Cube modification.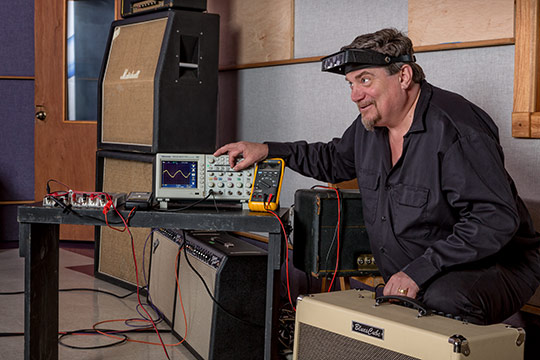 Bill and the engineers made significant changes to the Tone Capsule with Eric personally testing each stage of the tone development. Using vintage Strats Eric spent days listening, playing, and dialing in his custom tones with Bill and the Blues Cube engineers soldering connections and turning knobs. Picking attack was carefully set, input capacitors were analyzed, and power supply sag specially produced to provide that wonderful bounce, dynamic and elastic bloom of a highly complex vintage amp—an amp inspired by Eric Johnson.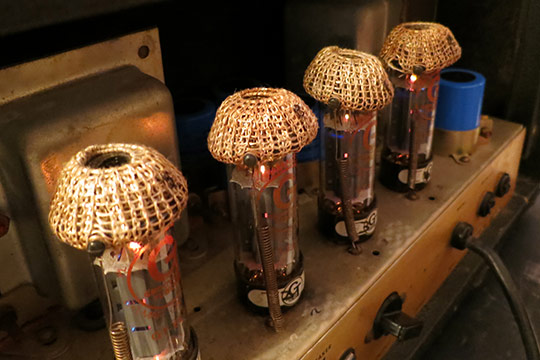 There are two channels on the Blues Cube: CLEAN and CRUNCH. Eric was able to dial beautiful clean settings inspired from his vintage Deluxe Reverbs. With just enough headroom, the pure clean tones of Blues Cube are reminiscent of many timeless Blues and Jazz songs. Pushed hard, the CLEAN channel breaks up with smooth dynamics. Eric commented, "I was very elated to find that the clean tone, if you turn it up, actually has a nice dirty rhythm tone too. " For CRUNCH, Eric's classic 100 watt '69 Super Lead inspired amazing lead tones with spectacular harmonics for Blues, Rock, and other styles. On one of Eric's Super Lead Plexis, the input to the phase inverter has two capacitors with a one meg master volume potentiometer positioned between them—some of the many important details that were carefully considered in the signal path for this channel.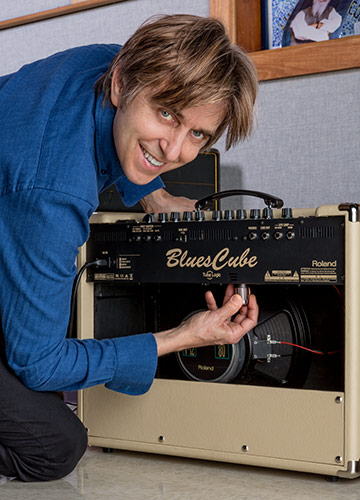 The TONE and REVERB settings are specially designed to give that warmth and expressiveness that is widely recognized in Eric's sound. On both channels you'll notice many of those brilliant EQ characteristics found in his tone. Eric continues, "I like the reverb in the Blues Cube. It's really pure and pleasant sounding and I especially like it considering that some of my favorite reverbs are the old spring reverbs from the '60s. The Blues Cube reverb is quite analog sounding. If it's a reverb that just enhances the sound and doesn't make me aware of it, just enhances it acoustically, then I think it's a really good thing and that's what the Blues Cube reverb does."
Whether you are running effects through the front or in the effects loop, Blues Cube brings those sounds to life. Eric explains, "This amplifier is taking effects really well. If I run my Tube Driver or Fuzz Face through it, or any particular effects, it seems to be very flattering, which I think is important."
Vintage Past Meets the Innovative Future
Eric reflected on the audio sessions as they came to a close, "I'm a bit shocked at the solid state nature of the Blues Cube. This is probably the best solid state guitar sound I've heard." The sky is the limit; it seems to me the potential is excellent." The outcome of this incredible journey is, in Eric's words, "only the beginning." He continues, "The way people have been getting tone hasn't really changed that much over the years. With Blues Cube, now there's a way to produce tone with a much different method producing incredible possibilities. I'm excited to explore those paths."
Tone Capsule-Compatible Amps